Things to Do in West Virginia for an Unforgettable Vacation
West Virginia, known as the Mountain State, offers a diverse range of experiences for every traveler. Whether you seek thrilling adventures, cultural immersion, historical exploration, or a rendezvous with nature, West Virginia has it all. From the exhilarating whitewater rafting in New River Gorge National River to the breathtaking beauty of Blackwater Falls State Park, this state promises an unforgettable vacation. In this article, we present the top 10 things to do in West Virginia that will create lasting memories.
Go Whitewater Rafting at New River Gorge National River West Virginia
If you crave an adrenaline rush, whitewater rafting at New River Gorge National River is a must-do activity. The river boasts some of the best rapids in the country, ranging from class I to class V. Whether you're a novice or an experienced rafter, there are trips suited to your skill level. As you navigate the rapids, you'll be treated to awe-inspiring views of the gorge, the iconic bridge, and the abundant wildlife.
---
Read also Things to Do in Wyoming: Hidden Gems of the Cowboy State
---
Marvel at the Beautiful Coopers Rock State Forest
Coopers Rock State Forest, spanning 12,747 acres, is a paradise for outdoor enthusiasts. This enchanting forest offers an array of activities such as hiking, biking, fishing, camping, and picnicking. Be sure to visit the Coopers Rock Overlook, which provides a panoramic view of the scenic Cheat River Canyon. Explore the forest's rich biodiversity, including rare species like the flying squirrel and the Allegheny woodrat.
See the Fine Arts Collection at Carnegie Hall West Virginia
Carnegie Hall, a historic building constructed in 1902 by Andrew Carnegie, stands as a cultural gem in the city of Lewisburg. One of only four Carnegie Halls in the world still operating as a cultural center, it houses a captivating collection of fine arts. Immerse yourself in the works of talented local and regional artists. Attend concerts, lectures, workshops, and festivals that showcase the vibrant arts scene.
Be Amazed by Blackwater Falls State Park West Virginia
Blackwater Falls State Park, renowned for its captivating beauty, stands as one of West Virginia's most popular destinations. Named after the stunning 62-foot Blackwater Falls, which cascades into the Blackwater Canyon, this park offers mesmerizing vistas. Observe the falls from several overlooks or embark on a hike to the base for an up-close experience. The park also features hiking trails, fishing spots, camping sites, and a nature center.
---
Read also Things to Do in Wisconsin
---
Visit Harpers Ferry National Historical Park
Step into history at Harpers Ferry National Historical Park, a place deeply intertwined with the American Civil War and the abolitionist movement. Explore the town's historic buildings, museums, exhibits, and monuments that vividly narrate its significance. Engage in outdoor activities like hiking, biking, kayaking, or zip-lining while surrounded by the park's breathtaking natural landscapes.
Try Craft Beers at Pies & Pints
Indulge in delectable pizzas paired with exquisite craft beers at Pies & Pints. This charming restaurant specializes in crafting unique flavor combinations. Sample their mouthwatering pizzas featuring toppings like chicken gouda, grape, and gorgonzola, or shrimp and pesto. Pair your pizza with an extensive selection of craft beers from local and regional breweries such as Bridge Brew Works, Greenbrier Valley Brewing Company, or Big Timber Brewing Company.
Explore Ski Runs at Snowshoe Mountain
Experience the thrill of skiing and snowboarding at Snowshoe Mountain, a premier ski resort spanning over 250 acres. With 60 trails catering to all skill levels, you'll find endless enjoyment on the snow-covered slopes. Delight in the terrain parks, take exhilarating rides down the tubing hill or savor the unique adventure of night skiing. The resort also offers a range of amenities including lodging, dining, shopping, and entertainment.
Tour the West Virginia State Capitol
Immerse yourself in the grandeur of the West Virginia State Capitol, an architectural marvel housing the state government. Completed in 1932, the Capitol boasts an impressive dome covered in 23-karat gold leaf. Take a guided tour and marvel at its stunning architecture, captivating artworks, and rich history. Don't miss the nearby Culture Center Museum, which showcases the heritage and culture of West Virginia.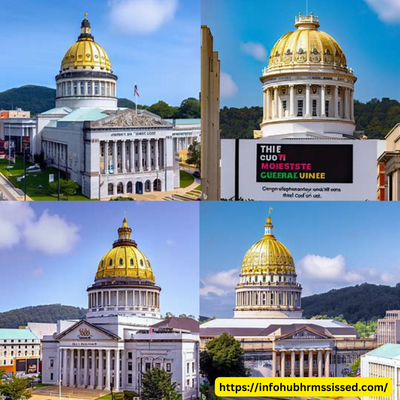 Discover Underground Wonders at Lost World Caverns
Embark on an extraordinary underground adventure at Lost World Caverns, a natural wonder featuring a network of caves adorned with breathtaking formations. Stalactites, stalagmites, flowstone, and helictites create a mesmerizing spectacle. Take a self-guided tour to witness highlights like the Snowy Chandelier, the Bridal Veil, and the War Club. For a more immersive experience, opt for an adventure tour led by knowledgeable guides.
Experience the Charm of Lewisburg
Uncover the enchanting charm of Lewisburg, a delightful town recognized as one of the coolest small towns in America. Take a leisurely stroll through its historic downtown, brimming with charming shops, galleries, cafes, and restaurants. Immerse yourself in the local arts scene by visiting the Greenbrier Valley Theatre, the state's official year-round professional theatre. Don't miss out on the vibrant festivals and events, such as the Chocolate Festival, the Literary Festival, and the State Fair of West Virginia.
These top 10 attractions are just a glimpse of the unforgettable experiences awaiting you in West Virginia. Whether you're seeking adventure, culture, history, or nature, this remarkable state offers a wealth of opportunities. So don't delay—book your trip to West Virginia today and embark on a journey filled with beauty, charm, and memories to last a lifetime.
Conclusion on Things to Do in West Virginia
West Virginia's diverse range of attractions ensures a vacation that caters to every traveler's desires. Whether you seek adventure on the thrilling rapids of New River Gorge National River or wish to immerse yourself in the state's rich history at Harpers Ferry National Historical Park, West Virginia has something for everyone. Marvel at the natural wonders of Blackwater Falls State Park and Lost World Caverns, explore the cultural heritage of Carnegie Hall and experience the warm charm of Lewisburg. With countless activities and destinations, West Virginia promises an unforgettable vacation filled with beauty, adventure, and cultural immersion.
FAQs about things to Do in West Virginia
Q 1: Is whitewater rafting in New River Gorge National River suitable for beginners?
Ans: Yes, New River Gorge offers rafting trips suitable for all skill levels, including beginners.
Q 2: Are there accommodations available at Snowshoe Mountain?
Ans: Yes, Snowshoe Mountain offers a range of lodging options, from cozy cabins to luxurious resorts.
Q 3: Can I visit the West Virginia State Capitol on weekends?
Ans: Yes, the West Virginia State Capitol is open to visitors on weekends, allowing you to explore its grandeur and history.
Q 4: Are there guided tours available at Lost World Caverns?
Ans: Yes, Lost World Caverns.