Things to Do in Tennessee: Unforgettable Adventures Await!
Embrace the Charm of Tennessee
Welcome to Tennessee, a state rich in history, culture, and natural beauty. Whether you're a history enthusiast, a music lover, an adventure seeker, or a foodie, Tennessee has something to offer for everyone. From picturesque landscapes to bustling urban centers, this vibrant state boasts an array of exciting experiences waiting to be explored. Let's dive into the top things to do in Tennessee and create unforgettable memories.
Things to Do in Tennessee: Unraveling the Wonders
Visit the Great Smoky Mountains National Park
The Great Smoky Mountains National Park, a UNESCO World Heritage Site, is a paradise for nature lovers.
With its diverse flora and fauna, numerous hiking trails, and stunning vistas, this majestic mountain range offers an unparalleled experience.
Capture the sunrise from Clingmans Dome, the highest peak in Tennessee, or spot wildlife along Cades Cove Loop Road.
Don't forget your camera – you'll want to capture every moment!
Explore the Music Heritage in Nashville
Known as the Music City, Nashville is a haven for music enthusiasts.
Immerse yourself in the soulful melodies of country music at iconic venues like the Grand Ole Opry and Ryman Auditorium.
Stroll down Broadway, where vibrant honky-tonks line the street, offering live performances and mouthwatering Southern cuisine.
Get a taste of Tennessee's rich musical history and create cherished memories in this lively city.
Experience the Blues on Beale Street, Memphis
Beale Street, located in the heart of Memphis, is a historic haven for blues music.
Feel the rhythm of the soulful tunes as you wander through the Beale Street Historic District.
Enjoy live performances at renowned venues like B.B. King's Blues Club and Rum Boogie Cafe.
The vibrant energy and captivating music will leave you dancing the night away.
Discover History at the National Civil Rights Museum
Step back in time and learn about the Civil Rights Movement at the National Civil Rights Museum in Memphis.
This powerful museum is located at the site of the tragic assassination of Dr. Martin Luther King Jr.
Explore the exhibits that chronicle the struggle for civil rights and the significant impact it had on American society.
Gain a deeper understanding of the nation's history and the ongoing pursuit of equality.
Indulge in Southern Delicacies
No visit to Tennessee is complete without savoring its mouthwatering Southern delicacies.
Taste the authentic Tennessee barbecue, which boasts a rich blend of smoky flavors.
Craving some heat? Try the famous Nashville hot chicken – a spicy delight that will tickle your taste buds.
And don't forget to enjoy warm, buttery biscuits – a true Southern comfort.
16 Foods Tennessee Is Known For are listed below
Tennessee Barbecue: Slow-cooked meats infused with smoky flavors and served with tangy sauces make Tennessee barbecue a must-try culinary experience.
Hot Chicken: Nashville's signature dish, hot chicken, delights with its fiery spice and crispy texture.
Biscuits and Gravy: Fluffy biscuits smothered in creamy sausage gravy create a comforting breakfast classic.
Goo Goo Cluster: Satisfy your sweet tooth with this iconic candy bar, filled with caramel, marshmallow, peanuts, and milk chocolate.
Jack Daniel's Whiskey: Tennessee's legendary whiskey, Jack Daniel's, boasts a smooth and distinct taste, making it a favorite worldwide.
Country Ham: Tennessee's country ham is cured and aged to perfection, offering a delectable blend of savory and salty flavors.
Fried Catfish: Freshly caught catfish, coated in seasoned cornmeal and fried to golden perfection, is a Southern delicacy.
Fried Green Tomatoes: Crispy, tangy, and slightly tart, fried green tomatoes are a delightful appetizer or side dish.
Cornbread: Served warm with butter, Tennessee's cornbread is a delightful accompaniment to any meal.
Sweet Tea: A staple beverage in the South, sweet tea is a refreshing and sweetened black tea.
MoonPies: A Chattanooga invention, MoonPies combine marshmallow and graham crackers covered in chocolate.
Chess Pie: This delectable dessert features a custard-like filling with a touch of cornmeal and a hint of vanilla.
Southern Fried Chicken: Crispy and flavorful, Southern fried chicken is a timeless favorite in Tennessee.
Sorghum: A natural sweetener, sorghum syrup is a traditional Tennessee ingredient used in baking and cooking.
Pimento Cheese: A creamy blend of cheddar cheese, mayonnaise, and pimentos, perfect for spreading on sandwiches or crackers.
Blackberry Cobbler: Made with fresh blackberries, this dessert is topped with a buttery crust and is often served with a scoop of vanilla ice cream.
Explore History at the Hermitage
Discover the fascinating history of Andrew Jackson, the seventh President of the United States, at The Hermitage.
This beautifully preserved historic home in Nashville offers a glimpse into Jackson's life and his contributions to the nation.
Take a guided tour of the mansion and its lush gardens to gain insight into the life of a prominent leader.
Relax on the Scenic Riverwalk in Chattanooga
The Riverwalk in Chattanooga is a serene escape along the Tennessee River.
Take a leisurely stroll or bike ride along the waterfront and enjoy the breathtaking views.
Cross the iconic Walnut Street Bridge, a pedestrian bridge connecting the north and south shores.
The Riverwalk is also home to various attractions, parks, and eateries, making it a perfect spot for a relaxing day.
Visit Graceland, the Home of Elvis Presley
Enter the world of the legendary Elvis Presley at Graceland in Memphis.
Tour the iconic mansion and explore the life of the King of Rock 'n' Roll through fascinating exhibits and music memorabilia.
From his collection of dazzling jumpsuits to the Meditation Garden, where he is laid to rest, Graceland offers an intimate look at the life and legacy of a music icon.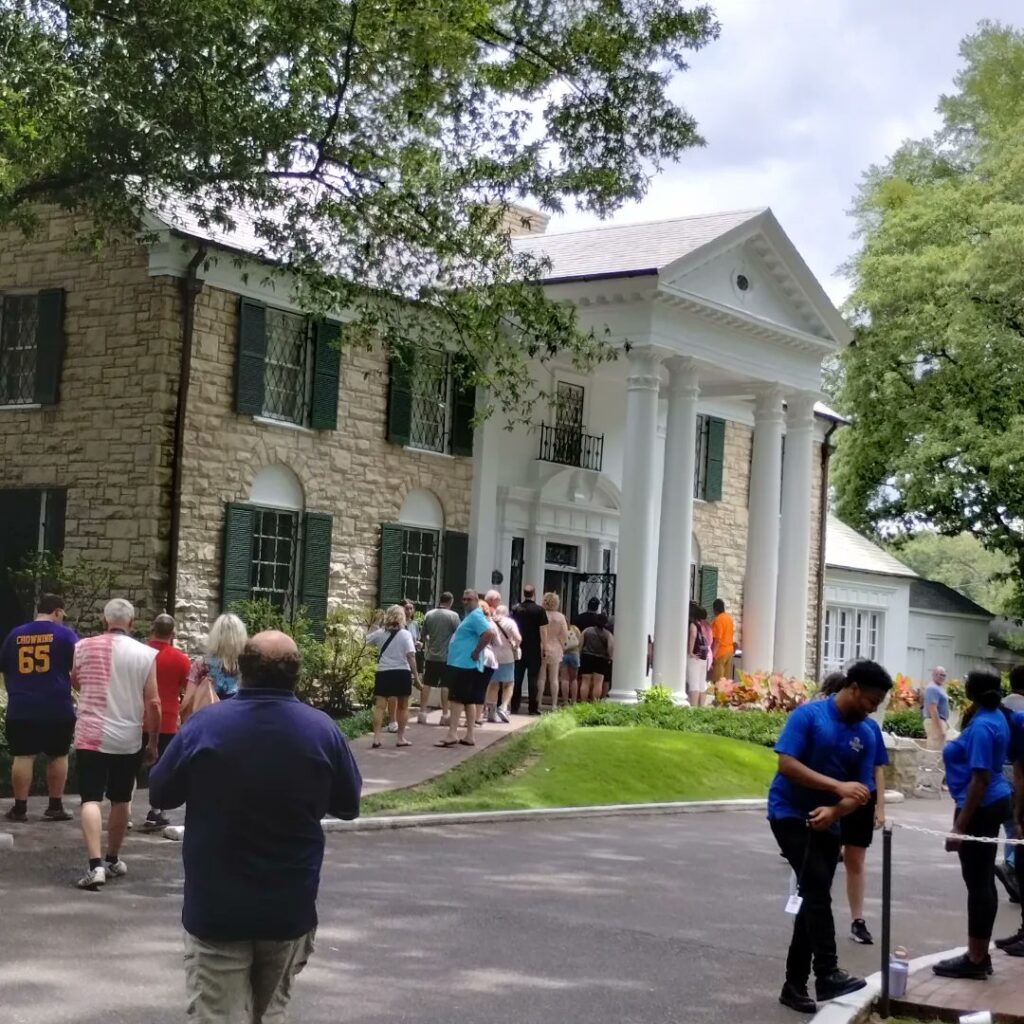 Embark on Adventure in the Ocoee River
For adrenaline junkies, a trip to the Ocoee River is a must.
Experience the thrill of white-water rafting through the challenging rapids of this scenic river.
Surrounded by stunning landscapes, the Ocoee River offers an unforgettable adventure for those seeking an adrenaline rush.
Discover the Beauty of Ruby Falls
Descend into Lookout Mountain and witness the mesmerizing beauty of Ruby Falls.
This stunning underground waterfall cascades from the ceiling of a limestone cave, creating a magical sight.
Take a guided tour through the caverns and marvel at the unique cave formations that nature has sculpted over millions of years.
Immerse in Art and Culture at the Frist Art Museum
The Frist Art Museum in Nashville is a haven for art lovers.
Marvel at an array of visual arts, from classic masterpieces to contemporary exhibitions.
Participate in interactive art workshops and immerse yourself in creativity.
The museum's ever-changing exhibits ensure a fresh and exciting experience with each visit.
Experience the Whimsy of Dollywood
Owned by the iconic Dolly Parton, Dollywood is a beloved theme park located in Pigeon Forge.
Enjoy thrilling rides, captivating shows, and family-friendly attractions that celebrate the spirit of the Smoky Mountains.
From heart-pounding roller coasters to live entertainment, Dollywood guarantees a day of fun and laughter.
Admire the Architecture of Bicentennial Capitol Mall State Park
Bicentennial Capitol Mall State Park in Nashville honors Tennessee's history and heritage.
Stroll through its beautiful gardens and admire the stunning Greek architecture of the Tennessee State Capitol.
Don't miss the iconic Bell Carillon, which chimes throughout the day, echoing the state's rich past.
Explore the Lost Sea Adventure: Things to Do in Tennessee
Embark on a thrilling adventure beneath the surface at the Lost Sea in Sweetwater.
This underground lake, the largest in the United States, offers boat tours that take you through stunning cave formations.
Learn about ancient fossils and the rich history of the caverns from knowledgeable guides.
Enjoy a Riverboat Cruise on the Mississippi: Things to Do in Tennessee
Experience the charm of a bygone era with a riverboat cruise on the Mississippi River.
Choose from paddlewheel boats that offer guided tours or opt for a romantic dinner cruise under the stars.
As you sail along the mighty river, relish the breathtaking views and immerse yourself in Southern hospitality.
---
Things to Do in Vermont: Explore the Green Mountain State
---
Witness the Grandeur of Lookout Mountain: Things to Do in Tennessee
Lookout Mountain is a natural wonder that offers awe-inspiring views of the surrounding landscapes.
Explore Rock City, a botanical garden with unique rock formations and panoramic vistas.
Take a ride on the Incline Railway, the steepest passenger railway in the world, for a thrilling experience.
Discover the Beauty of Reelfoot Lake: Things to Do in Tennessee
Reelfoot Lake, located in the northwest corner of the state, is a haven for nature enthusiasts.
It is renowned for its abundant birdlife and excellent fishing opportunities.
Bring your binoculars for birdwatching or cast a line and try your luck at catching crappie, bass, or catfish.
Explore the Wonder of the Tennessee Aquarium
The Tennessee Aquarium in Chattanooga is a world-class attraction that delights visitors of all ages.
Explore its freshwater and marine exhibits, home to an array of fascinating aquatic creatures.
Learn about animal conservation efforts and catch an educational film at the IMAX theater.
Get Spooked at the Bell Witch Cave
For those seeking eerie thrills, a visit to the Bell Witch Cave is a must.
Delve into the haunting tale of the Bell Witch, a paranormal legend that has fascinated locals and visitors alike for generations.
Take a guided tour through the cave and learn about the spine-chilling events that occurred.
Celebrate the Bristol Rhythm & Roots Reunion
Join the festivities at the Bristol Rhythm & Roots Reunion, a premier music festival celebrating Appalachian heritage.
Enjoy live performances by renowned artists, immerse yourself in the lively atmosphere, and experience the unique blend of music genres that make this festival special.
Enjoy the Outdoors at Radnor Lake State Park
Radnor Lake State Park near Nashville is a tranquil escape for nature lovers.
Its diverse ecosystems offer excellent opportunities for birdwatching and wildlife photography.
Lace up your hiking boots and explore the scenic trails that wind through lush forests and around the pristine lake.
Step Back in Time at the Shiloh National Military Park
Visit the Shiloh National Military Park and delve into the history of one of the bloodiest battles of the Civil War.
Explore the historic battlefield and visit the solemn monuments that pay tribute to those who fought in this significant conflict.
Participate in interpretive programs to gain a deeper understanding of the events that shaped the nation's history.
Indulge in Retail Therapy at the Opry Mills Mall
Shopaholics will delight in the vast retail options at Opry Mills Mall in Nashville.
With over 200 stores, including outlet shops and popular brands, there's something for every taste.
After a day of shopping, unwind at the entertainment complex, where you can enjoy live shows and dining experiences.
---
Things to Do in Utah: A Journey Through Natural Wonders
---
Discover the Enchanting Fairy Tale Caverns
Experience the magic of Fairy Tale Caverns in Chattanooga's Rock City Gardens.
Walk through a series of underground caves adorned with enchanting fairy tale scenes and vibrant light displays.
The whimsical sculptures and stunning rock formations will transport you to a world of wonder.
Enjoy a Performance at the Tennessee Theatre
Located in Knoxville, the Tennessee Theatre is a beautifully restored historic venue that hosts a variety of performances. From concerts to Broadway shows, this elegant theater offers a memorable cultural experience in the heart of the city.
---
Things to Do in Texas: Explore the Enchanting Wonders
---
FAQs about Things to Do in Tennessee
Q: What are the best places to visit in Tennessee for nature lovers? A: Nature enthusiasts will find the Great Smoky Mountains National Park, Ruby Falls, and Reelfoot Lake as must-visit destinations that showcase the state's natural beauty.
Q: What is the best time to visit Tennessee? A: Tennessee experiences mild winters and warm summers, making spring and fall ideal seasons to visit for comfortable weather and vibrant landscapes.
Q: What are some family-friendly attractions in Tennessee? A: Dollywood, Tennessee Aquarium, and the Riverwalk in Chattanooga offer family-friendly activities and entertainment for all ages.
Q: Is Tennessee known for its music heritage? A: Yes, Tennessee is renowned for its rich music heritage, particularly in cities like Nashville and Memphis, where you can explore the roots of country, blues, and rock 'n' roll.
Q: Can visitors enjoy outdoor activities in Tennessee? A: Absolutely! Tennessee offers numerous outdoor activities, such as white-water rafting on the Ocoee River, hiking in the Great Smoky Mountains, and birdwatching at Radnor Lake State Park.
Q: What is the significance of Graceland in Memphis? A: Graceland was the beloved home of Elvis Presley, and today, it serves as a museum that showcases his life, music, and contributions to the entertainment industry.
Conclusion: Embark on a Memorable Journey
Tennessee, the Volunteer State, beckons travelers with its diverse landscapes, vibrant culture, and historic charm. Whether you're exploring the majesty of the Great Smoky Mountains, savoring Southern delicacies, or immersing yourself in the music scene, Tennessee promises an unforgettable journey. From outdoor adventures to cultural delights, this captivating state offers experiences that cater to all interests. So, pack your bags and embark on a remarkable adventure in Tennessee!