Explore the best things to do in Oregon, from natural wonders to cultural treasures. Discover a wealth of activities in the Beaver State that will make your visit unforgettable. Oregon, a land of diverse landscapes and captivating beauty, offers a wide array of activities for travelers seeking adventure, culture, and natural wonders. From the rugged coastline to the majestic mountains and vibrant cities, there's something for everyone in the Beaver State. In this comprehensive guide, we'll explore over 25 engaging activities that showcase the best things to do in Oregon.
Embrace the Outdoors
Hike the Pacific Crest Trail
Embark on an epic journey by hiking a portion of the Pacific Crest Trail, which stretches through Oregon's stunning wilderness. You'll encounter lush forests, pristine lakes, and breathtaking vistas along the way.
Explore Crater Lake National Park
Visit Crater Lake, a deep blue wonder that rests within a volcanic caldera. Take a boat tour or hike the rim for breathtaking views, and don't forget to snap a photo of this natural marvel.
Go Whitewater Rafting on the Rogue River
For thrill-seekers, whitewater rafting on the Rogue River offers an adrenaline-pumping adventure. Navigate through challenging rapids while surrounded by the rugged beauty of the Rogue Valley.
Visit the Columbia River Gorge
Explore the lush greenery and cascading waterfalls of the Columbia River Gorge. Hike the trails, take in the views from Vista House, and admire the stunning Multnomah Falls.
You may like to read Things to Do in Rhode Island: Exploring the Ocean State
Discover the Oregon Coast
Relax at Cannon Beach
Cannon Beach, with its iconic Haystack Rock, is perfect for beachcombing, sandcastle building, and enjoying stunning sunsets. It's a coastal paradise.
Explore the Oregon Dunes
Head to the Oregon Dunes National Recreation Area for thrilling sand dune adventures. Try sandboarding or take a dune buggy ride along the picturesque coastline.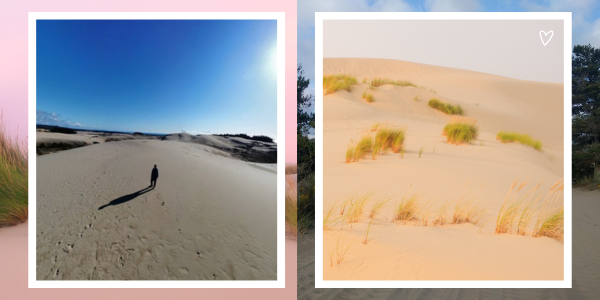 Witness Thor's Well
Thor's Well, a natural sinkhole near Cape Perpetua, is a mesmerizing sight. Watch as the waves crash into the hole and seem to disappear into the depths of the Earth.
Must read Things to Do in Pennsylvania: The Wonderful Keystone State
Immerse in Culture
Visit Powell's City of Books
Book lovers can't miss Powell's City of Books in Portland. It's one of the world's largest independent bookstores, with endless shelves of literary treasures.
Explore the Oregon Museum of Science and Industry
The Oregon Museum of Science and Industry (OMSI) in Portland offers interactive exhibits and an OMNIMAX Dome Theater, making it a great spot for family fun and learning.
Wander the Portland Japanese Garden
Find peace in the Portland Japanese Garden, a serene oasis filled with meticulously maintained gardens, koi-filled ponds, and cherry blossoms in the spring.
Taste Oregon's Culinary Delights
Experience the Food Cart Scene
Portland's food cart scene is a culinary adventure. Sample dishes from around the world at these mobile eateries, offering diverse and delicious options.
Savor Oregon's Craft Beer
Oregon is known for its craft beer, and there are countless breweries to explore. Enjoy a cold one at iconic places like Deschutes Brewery and Rogue Ales.
Also read Things to Do in South Carolina: Exploring the Palmetto State
Things to do in Oregon
Stroll Through Astoria
Wander through the charming town of Astoria, rich in history and home to the Astoria Column, which offers panoramic views of the Columbia River and Pacific Ocean.
Visit the Oregon Shakespeare Festival
The Oregon Shakespeare Festival in Ashland is a cultural gem, featuring world-class theater performances in a picturesque setting.
Attend the Pendleton Round-Up
Experience the Wild West at the Pendleton Round-Up, one of the oldest rodeos in the country. Watch bull riding, barrel racing, and more.
FAQs
Is Oregon a good place for outdoor enthusiasts? Absolutely! Oregon's diverse landscapes cater to hikers, bikers, rafters, and nature lovers of all kinds.
What's the best time to visit Crater Lake? Summer offers the best access to Crater Lake, but winter visitors can enjoy unique snowshoeing and cross-country skiing experiences.
Are there family-friendly activities in Oregon? Yes, Oregon is family-friendly with attractions like the Oregon Zoo, OMSI, and kid-friendly hikes.
Where can I try fresh seafood on the Oregon Coast? Many coastal towns offer outstanding seafood options, but Newport and Bandon are known for their excellent seafood restaurants.
What's the ideal duration for exploring the Oregon Coast? To fully explore the coast, plan for at least a week, but even a short weekend trip can be rewarding.
Is Oregon's wine scene worth exploring? Absolutely. The Willamette Valley is renowned for its Pinot Noir, and wine enthusiasts will find countless vineyards to tour.