DIFFERENT TYPES OF REGISTERS USED IN SCHOOLs
School register with names is being discussed here below. Maintenance of record registers and records form the core of any organization. They provide deep insight into the state and status of an organization. A school is no exception. We maintain so many records to keep track of events going on in school.
We are going to give a brief insight into registers used in schools below.
ADMISSION REGISTER:
It is a record of all pupils/students who are admitted to a school. It contains.
Serial number and name of pupil.
Father name and occupation.
Cast and address.
Date of birth and date of admission in school.
Class in which to be admitted.
It should be free of mistakes and kept in safe custody.
STUDENTS ATTENDANCE REGISTER
It is another important Register. It can be both in used both in Urdu or English. It is maintained in each class and section showing names and Roll numbers of pupils. Daily attendance is marked. Present is marked by P and Absent is marked by A. Holidays are properly mentioned in red link.
TEACHERS ATTENDANCE REGISTER
To record daily attendance of Teachers Schools maintain the Teachers attendance Register. This show time of arrival and departure of teachers on each day. Leaves taken by teachers during the month are to be written on it.
LOG BOOK
It is specifically designed for the purpose of containing remarks of school Inspector or other important officers of Education department, who pay an official visit to Schools.
CASH BOOK
It is record of all money transaction occurring from day to day in school. Money received by school from different sources like fees, fines, donations, scholarships, grant in aids are entered .It should be regularly updated.
STOCK REGISTER
This Register keep information of all moveable property of school. While purchasing Equipment's or furniture should be entered in register. Verification report should be recorded in register. It contain following things
Name of article
Quantity of article
Date of purchase
Name of firm which supplied article
Authority purpose
Signature of authority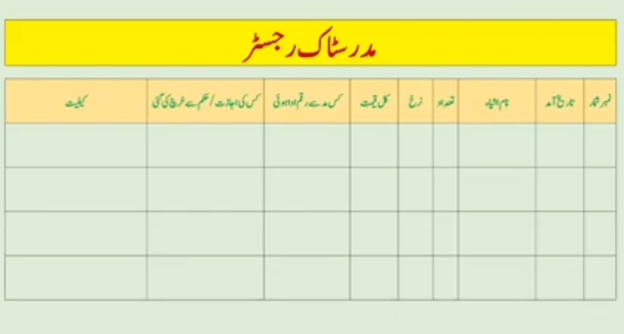 SMC/ FIROGH E TALEEM
When pupil/Students pay fee, the detail of payment is entered in registers and receipts issued to that effect.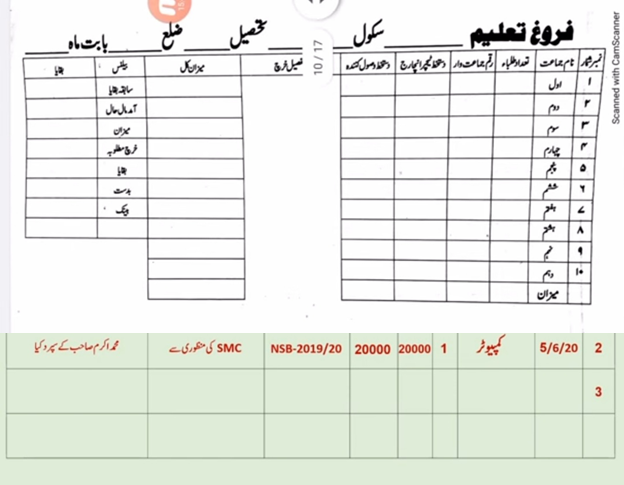 NSB AND SCHOOL COUNCIL REGISTER
The school council has 9 members. Any decision about school matters whether it is purchasing or anything related to school is carried out after the school council meeting. All members signs and allows to draw the amount from the NSB account for a related matter. Head Teacher and co-signatory both sign the check with the draw amount.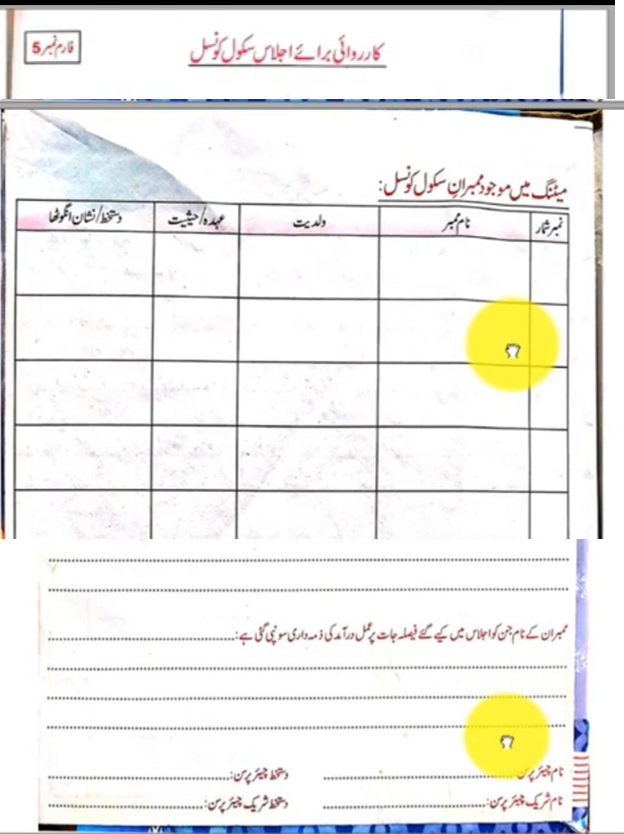 PLANTATION REGISTER
This is related to the record of all plants in school.
Which include
types
date planted
condition
who planted
spoiled plants
CORONA IMPLEMENTATION REGISTER
It is related to implementation of all SOPs of Corona virus. Corona Focal person daily writes in this register to confirm that all sops have been implemented i-e
Checked students Masks
Applied sanitizers
Checked Temperature
Soaps are available at washing points
Student should keep distance.
ANTI DANGUI REGISTER
It is related to all implementations of anti dengue activities in school. Dengue focal person writes it daily and send activities online on daily basis.
School leaving Certificate Register
It is students school leaving certificate. When a student leaves school it is filled by head teacher, one copy is given to student and one is saved in school record.
Time table register
It is helpful in proper time and periods management of class for teachers.
STUDENTS AND TEACHERS FILES
Records of all students and teachers should be kept by head teacher in school.
Service Book
It contains service history of teachers (employ). Its first page contain
Name, date of birth, first appointment date in service
Qualification, i.d card, identification mark, address
Home address
Left hand fingers and thumb impression
Its other pages maintain service history like contract, permanent, salary, transfers e.t.c.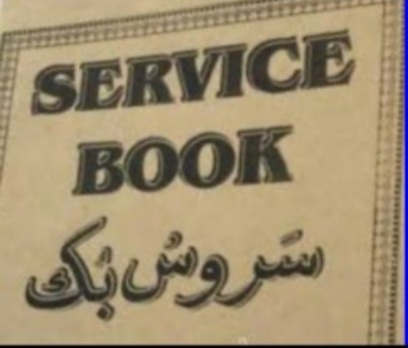 FTF Register
Usage of Farogh-e-Taleem Fund (FTF)
Purchase of Science Equipment of all types.
Purchase & Repair of Sports Articles of all types.
Expenses to hold games contests, refreshment of players, conveyance expenses of sports, accommodation & meals expenses for sports.
Minor work for Play Ground (Cleanliness & Levelling etc.), availability of water for ground.
Purchase of Library Books, Magazines, Newspapers & Periodicals, Library & Reading Room related other expenses.
Expenditure of Examinations (Printing of question papers, purchase of photocopy machine & related material).
Purchase of Audio Visual Aids.
Purchase of Geometry Box, Charts, Maps, Black Boards/White Boards, Duster & Display Boards.
Purchase of Plants for Tree Plantations/Flower Pots.
Expenses for holding of competitions of Co-curricular activities i.e. Drama, Debates, Speech & Essay Writing.
Expenses of Students & Class In-charge for trips to historical & geographical places (no subscription will be taken from students).
Fee for Scouting/Girl Guiding, Expenses for related items & accommodation of Students, In-charge Teacher & Headmaster/Headmistress.
Purchase of Medicines.
Appointment of Doctor & Dispenser part-time.
Treatment of Poor & Deserving Students.
Purchase of Sanitation related articles.
Health related charts.
Weight machine.
National & Islamic celebration day expenses.
Furniture of Library & related items.
Annual Prize distribution ceremony expenses.
Educational Distinction & Sports Prizes.
First Aid & related articles.
Articles relating to cleanliness in the School.
Books for deserving poor students, stationary, purchase of uniform & shoes, payment of fees etc.
Purchase of optical & toys for poor students.
Purchase of seeds & plants for school ground & other ordinary purchase.
Help for students of SOS Village & Hospital.
Prize in form of articles (Towels/Vests) or prize bonds on occasions like Eid Milad-ul-Nabi (S.A.W)/Pakistan Day etc.
Printing of Certificates etc. for giving to the students on the above occasions.
Expenditure required in form of repairs etc, in the libraries/purchase of fans, curtains & any other types of expenditures required in the Libraries.
Binding of books in Libraries.
Purchase of National Leaders/National Heroes Photos.
Any other types of expenditure required for the welfare of the students & upkeep of the school with permission of school council.
Inventory Register
All school material is enlisted in this register. Like chairs, fans, tables etc. are written in this register.
Budget Register
This register contains expenses detail. For example for what purpose amount will be used in future. This gives an idea & path to control school funds in a good maner.