If you're planning a visit to North Dakota, you're in for a treat. This hidden gem of a state has a lot to offer, from stunning natural landscapes to rich cultural experiences. Let's dive into the top activities you can enjoy in North Dakota.
Adventurous Outings: Hiking, Fishing, and Camping
Hiking in North Dakota
Challenges for All Skill Levels: From beginners to seasoned hikers, North Dakota offers trails suitable for everyone.
Badlands Hikes: Explore the dramatic Badlands terrain, with opportunities for spotting wildlife and unique geological formations.
Fishing in North Dakota
Year-Round Fishing: Discover great fishing spots throughout the seasons, from ice fishing in winter to warm-weather angling.
Expert Tips and Techniques: Learn from experienced local anglers to enhance your fishing skills.
Camping in North Dakota
Unique Camping Experiences: North Dakota offers options for every camper, including early sites and RV-friendly campgrounds.
Stargazing in the Prairie: Experience the magic of North Dakota's night sky at remote campsites away from city lights.
Heritage Unveiled: Museums and Historical Sites
Museums in North Dakota
Hands-On Learning: Many museums in the state offer interactive exhibits, making history come alive for all ages.
Cultural Exhibits: Explore Native American heritage, early settler history, and modern North Dakota culture.
Historic Sites in North Dakota
A Walk Through Time: Step into the past with well-preserved historic sites, each with its unique stories to tell.
Living History Events: Many historic sites host reenactments and events that transport you back in time.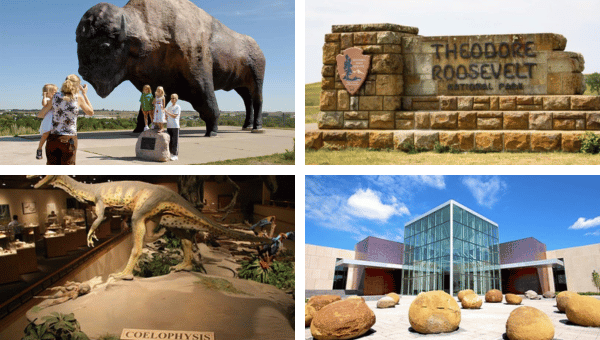 Cultural Immersion: Native American Culture and Small Town Charm
Powwows and Celebrations: Participate in powwows, ceremonies, and cultural celebrations happening year-round.
Artisan Traditions: Learn about the craftsmanship, beading, and other artistic expressions of Native American groups.
Local Festivals: Small towns often host festivals celebrating local traditions, crafts, and community spirit.
Unique Shopping: Discover one-of-a-kind boutiques and stores offering handcrafted goods and antiques.
Year-Round Celebrations: Events and Festivals
Food and Entertainment: Sample delicious fair food and enjoy live music, parades, and fun rides at summer festivals.
County Fairs: Each county in North Dakota boasts its own fair, offering a glimpse of local culture and traditions.
Winter Sports: Embrace the cold with snowboarding, skiing, and snowshoeing in the state's scenic parks.
Frosty Festivities: Experience North Dakota's unique winter festivals, featuring ice carving and more.
Nature's Bounty: State Parks and Wildlife Encounters
Scenic Diversity: Explore different ecosystems, from forested riverbanks to open prairies, all within the state's parks.
Family-Friendly Activities: Enjoy picnicking, swimming, and wildlife observation in family-oriented settings.
Birding Hotspots: Discover the best places for birdwatching and gain insights into the diverse avian species.
Bison, Elk, and More: Beyond bison, North Dakota's parks host various wildlife, offering thrilling viewing experiences.
Culinary Delights: Dining and Craft Beer
Farm-to-Table Delights: Savor locally sourced ingredients prepared in inventive and traditional culinary styles.
Hidden Culinary Gems: Seek out restaurants with a focus on sustainability, unique flavors, and welcoming atmospheres.
Brewery Tours: Dive into the craft beer scene with brewery tours and tastings at local microbreweries.
Local Brews and Beyond: Sample North Dakota's finest craft beers, from hoppy IPAs to rich stouts.
North Dakota's wealth of activities and attractions ensures a memorable experience for travelers of all interests. Whether you're an outdoor enthusiast, history buff, culture seeker, festival lover, or culinary explorer, North Dakota welcomes you with open arms. Plan your journey and uncover the diverse and captivating landscapes of this remarkable state.