Hyundai Payment Options and Perks for American Customers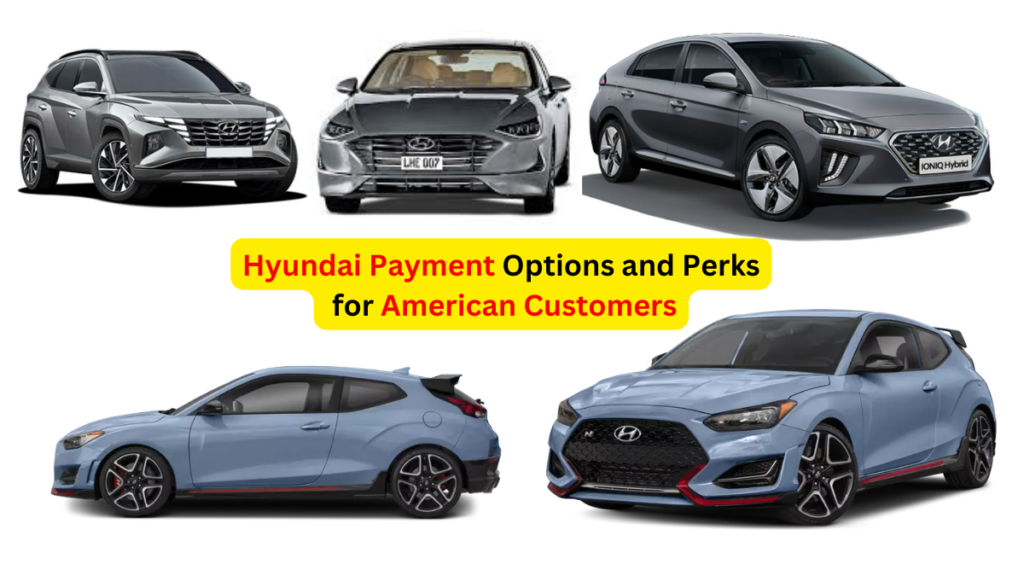 Whether you already own a Hyundai or are considering buying one in America, understanding the available payment options and associated benefits is crucial. Hyundai provides various financing and payment methods, along with exciting perks and rewards for its customers. Let's delve into the Hyundai payment options and benefits offered in America:
Hyundai Motor Finance
Hyundai Motor Finance serves as the official financing partner of Hyundai Motors America, offering competitive rates and flexible terms for both new and used Hyundai vehicles. Applying for credit is convenient, allowing you to do so online or at your local Hyundai dealer, with the added benefit of getting pre-approved within minutes.
Once you've secured financing through Hyundai Motor Finance, you gain access to an online account that offers the following exclusive benefits:
Account Alerts
Stay on top of your payments with important account reminders, payment received alerts, and other essential messages.
Account Summary
Get a quick overview of crucial account details, including your payment due date.
View Statements
Access your monthly statements, conveniently available for viewing online or printing for reference.
FICO® Score Online
Keep track of your FICO® Score at no cost whenever you sign in to your account.
Make a Payment
Pay your monthly bill online using your bank account or debit card. Additionally, you can set up autopay to ensure recurring payments are scheduled promptly, avoiding late fees.
Get a Buyout Quote
If you're considering buying out your lease or trading in your vehicle, obtain a buyout quote easily through the online platform. You can access your Hyundai Motor Finance account via the following link: Hyundai Motor Finance Login.
---
Also, read Kia Payment Options and Advantages
---
Hyundai Owners Portal
The Hyundai Owners Portal serves as a comprehensive platform catering to all aspects of owning a Hyundai vehicle. By creating an account using your VIN or phone number, you can access a wide range of features and services, including:
Maintenance
Stay informed about upcoming maintenance milestones, and recommended services, and, if equipped with Bluelink®, receive monthly health reports for your Hyundai.
Bluelink®
For eligible vehicles with Bluelink®, enjoy the convenience of remote features, such as lock/unlock, climate control, and charging, making your Hyundai experience smarter.
Videos
Access how-to guides, product demos, and feature presentations tailored specifically to your Hyundai model.
Finance
Those who financed their vehicle through Hyundai Motor Finance, easily make car payments and keep track of payment history.
Warranty
Access your vehicle's warranty information whenever you need it, ensuring peace of mind for your Hyundai ownership.
Manuals
Get easy access to your vehicle's electronic owner's manual online, reducing clutter and ensuring important information is readily available.
Service Appointments
Effortlessly schedule maintenance appointments with your preferred participating Hyundai dealer through the user-friendly online portal.
Recalls
Stay updated on any current and previous safety recall information relevant to your Hyundai.
To sign in to the Hyundai Owners Portal, visit: Hyundai Owners Portal Login.
---
In conclusion, Hyundai goes the extra mile to provide its American customers with a seamless and rewarding ownership experience. With Hyundai Motor Finance offering competitive financing options and the Hyundai Owners Portal providing a comprehensive suite of services, managing car expenses and accessing important information has never been easier. Embrace the convenience and benefits offered by Hyundai, and embark on your journey with confidence and assurance.
---
FAQs
Can I apply for credit with Hyundai Motor Finance online?
Absolutely! Applying for credit is quick and easy through Hyundai Motor Finance's online platform or your local Hyundai dealer.
How do I access my vehicle's electronic owner's manual?
You can conveniently access your Hyundai's electronic owner's manual online through the Hyundai Owners Portal.
What features does Bluelink® offer for my Hyundai?
Bluelink® offers smart remote features such as lock/unlock, climate control, and charging for eligible Hyundai vehicles.
Can I set up autopay for my Hyundai payments?
Yes, Hyundai Motor Finance allows you to set up autopay for timely and hassle-free monthly payments.
How do I check if my Hyundai has any safety recalls?
You can easily search for current and previous safety recall information through the Hyundai Owners Portal.