On SIS PUNJAB application, some options color is little blur. This is making Teachers bit confuse. There is reason for this confusion actually. When any option on SIS PUNJAB gets blur, it means it is not editable. Teachers must not get confused while transferring out or passing out students. Below is the detailed process for passing/Transferring out students.
When to Transfer/Pass out Students on SIS?
The answer to this question is before starting new session. i.e. before 1-August-2022, Or before 1st visit of MEA in new session. This year new session starts from 1st of august 2022.
HOW TO TRANSFER OUT/ PASS OUT STUDENTS?
Below is the procedure to do this. It comprises of 6 simple steps.
STEP 1: OPEN SIS PUNJAB APPLICATION & CLIC STUDENTS SECTION
Read other articles click here
STEP 2: SELECT DESIRED CLASS (FOR PASS OUT CLASS 5th or CLASS 8)
Open desired terminal class from which students are going to pass out i.e. Class 5th, 8th by clicking over it.
STEP 3: CLICK ANY STUDENT
CLICK on any student and proceeded to step 4.
STEP 4: CLICK on LEAVE SCHOOL OPTION
when we click Leave school further options pop out. See next step 5.
STEP 5: SELECT PASS OUT OPTION ON SIS PUNJAB
There are 10 options.
You will here Select pass out and click Leave option.
STEP 6: CLICK OK. You are done with Pass out process.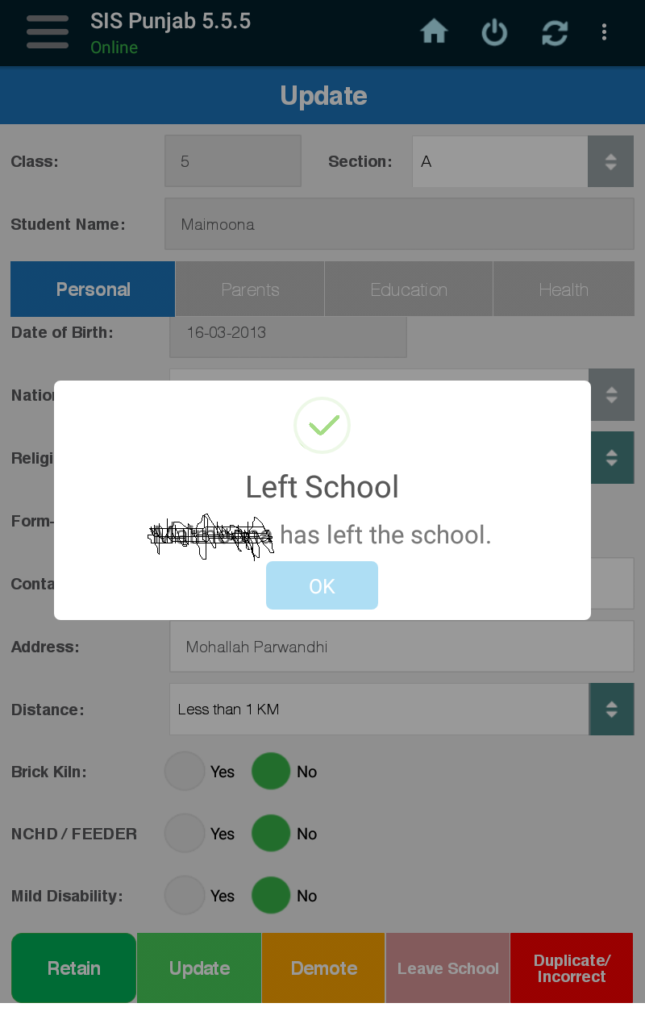 Click Ok. Pass out process for one student completed.
Repeat Step 3, 4 ,5, 6 for every Student of Class 5 if primary school and click 8th if middle school
---
Pass Out option in SIS PUNJAB
یہ آپشن تب استعمال کی جاتی ہے جب سب سے بڑی یا سکول کی آخری کلاس سے بچوں کو فارغ التحصیل کرنا ہو۔

Transfer
سکول ٹیبلیٹ سے بچوں کو نکالنے کے لیے یہ آپشن تب استعمال کرتے ہیں جب بچوں کو ایک سکول سے دوسرے سکول بھیجنا مقصود ہو۔

Due to Absents
اگر کوئی طالبعلم مسسل غیر حاضر ہو تو بچے کو یہ آپشن استعمال کرکہ کے سکول ٹیلیٹ سے خارج کیا جاتا ہے۔

Parents/Guardians have Shifted/Transferred
اگر کسی طالبعلم کے والدین کسی اور علاقہ میں نقل مکانی کر جائیں تو یہ آپشن استعمال کرکہ بچے کو خارج کیا جاتا ہے۔

Under/Over Age
اگر بچہ چار سال سے چھوٹا ہو یا پندرہ سال سے بڑا ہو جائے اور پرائمری کلاس پاس نہ کر پائے تو یہ آپشن استعمال کرکہ بچے کو خارج کیا جاتا ہے۔

Health Issues option in SIS PUNJAB
کوئی بھی طالبعلم جب کسی بیماری کی وجی سے تعلیم جاری نہ رکھ پائے تو یہ آپش استعمال کرتے ہوئے خارج کیا جاتا ہے۔

Labour/Financial reasons
طالبعلم اگر مالی وسائل نہ ہونے کی وج سے تعلیم جاری رکھنے سے قاصر ہو تو یہ آپشن استعمال کرتے ہوئے سس ایپلیکیشنن سے نکالا جاسکتا ہے۔

Marriage
طالبعلم یا طالبہ کی شادی کی صورت میں تعلیم جاری نہ رکھ پانے کی وجہ سے یہ آپشن استعمال کرکہ طالبہ/طالبعلم کو سس سے ریموو کیا جاتا ہے۔

Death option in SIS PUNJAB
طالبعلم یا طالبہ کی فوتگی کی صورت میں تعلیم جاری نہ رکھ پانے کی وجہ سے یہ آپشن استعمال کرکہ طالبہ/طالبعلم کو سس سے ریموو کیا جاتا ہے۔

Other option in SIS app
مندرجہ بالا وجوہات کے علاوہ دیگر وجوہات کی بنا پر سکول سے تعلیم جاری نہ رکھ پانے والے طالبعلم یا طالبہ کو یہ آپشن سیلیکٹ کرکہ سکول کی سس ایپلیکشن سے نکالا جاتا ہے۔
---
SOME USEFUL ARTICLES BELOW
ALSO LEARN HOW TO SOLVE RECENT SIS UPDATE ERROR (..READ)
HOW & WHEN TO PROMOTE CLASSES ON SIS (Pictorial Guide) (..READ)
DETAIL ABOUT NEW SIS UPDATE (5.3.16)REGARDING INSAAF SCHOOLs (..READ)
PROCEDURE FOR AVAILING MATERNITY LEAVE|| میٹرنٹی لیو (..READ)
USER MANUAL FOR INITIATION OF INITIATION OF ACRS||PERS BY RESPECTIVE REPORTING OFFICER & COUNTERSINGING OFFICER (..READ)
SCHOOL CENSUS 2021, MOST COMMON REPEATED ANAMALIES AND THEIR SOLUTION, GET SOULTION HERE (..READ)
---
Privacy Policy SIS PUNJAB
S.I.S uses your GPS location for limited use
This application uses your location to get Teacher's Location from Teacher Profile.
School Information system (SIS) uses your App Gallery for documents and Camera for QR code
SIS app uses App Gallery for picture proof of Disability Certificate, Marriage Certificate, CNIC/ Service Certificate / Domicile of Spouse, Husband's Death Certificate, Divorce Certificate. SIS app uses Camera for readability of QR-Code for Teacher Relieving/Joining.
Punjab Information Technology Board (PITB) vows not to misuse your data. The information we collect is used solely for the betterment of systems and services provided by the relevant Government or Public sectors/departments, in accordance with the Electronic Data Protection Act and The Prevention of Electronic Crimes Act.
It is important that you note that we use no information for commercial purposes. Your privacy is important so we've developed a Privacy Policy that covers how we collect, use and store your personal information.
System uses Device IMEI for Unique Device Registration.
This app is developed by Punjab Information Technology Board (PITB) , an autonomous body set by Government of the Punjab that provides the foundation for Punjab's digital innovation economy.