HOW 50,000+ PLANTS RECORD IS MADE POSSIBLE?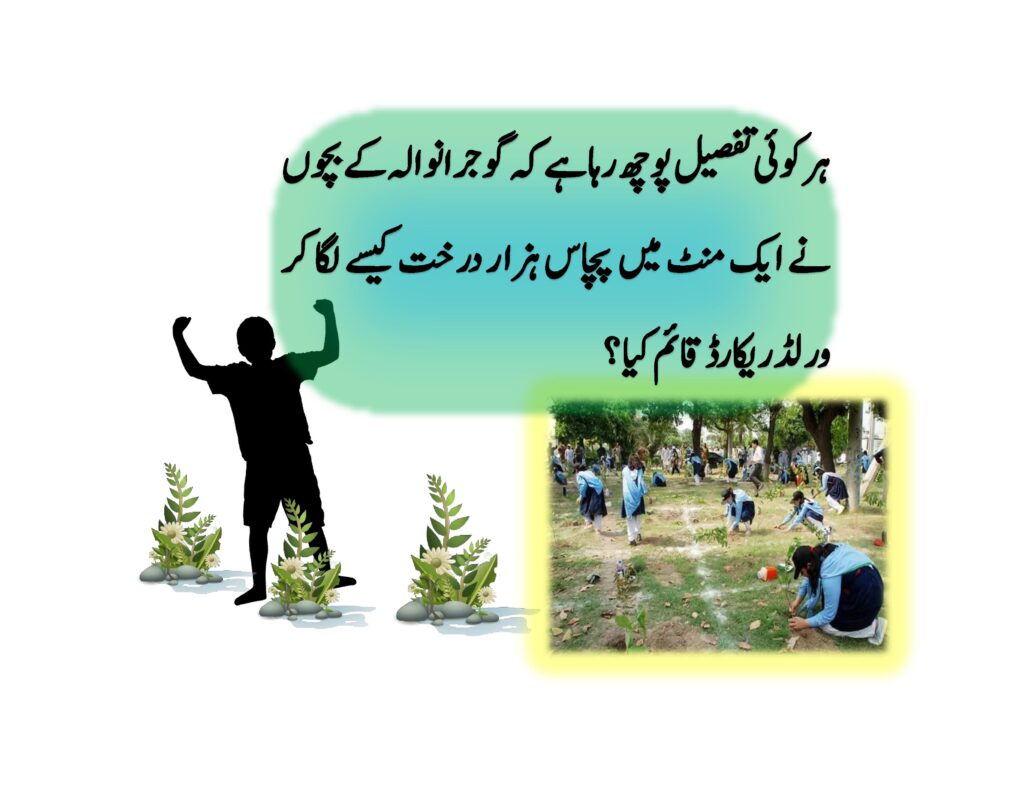 Everyone is asking in detail how the children of Gujranwala set a world record by planting 50,000 trees in one minute.
MAIN ROLE
When the idea of ​​setting a world record by planting trees came into the mind of Commissioner Gujranwala SOHAIL KHAWAJA, he also came up with the idea that this work should be done by children instead of adults. Because these children are our future, and he want to create love for plants in children.
LOCATION SET
Fifty blocks were constructed in an area of ​​11 km from Chen-Fort (چن دا قلعہ) to Aziz Cross Chowk (GUJRANWALA). One thousand saplings were to be planted in each block named after these blocks. Thus, a total of fifty thousand saplings are completed.
CALCUALATION
For all this work, 13,000 students from different schools were registered and a workshop was organized for them in which the children were told how to plant a sapling.
13000 students × 4 plants = 52000 total plants
SPECIAL ASSISTANCE
In these fifty blocks, PHA employees had already drilled 50,000 holes in the ground at 5 feet by electric drill and one plant was placed near each hole so as not to waste time.
OBSERVER
Finally, on Thursday, August 12, 2021, at 3:00 PM, in the presence of the staff of the Guinness Book of World Records and the district administration of Gujranwala city and under the supervision of Darwin cameras, as soon as the whistle sounded, the brave children of Gujranwala took turns dipping the plants in his claws and burying them in the ground, breaking India's record of planting 37,000 trees in one minute and setting a record of planting 52,000 trees in just 40 seconds.